Stop into Caney Fork today and enjoy one of the best burgers in Nashville you can get or mix it up and get a bison burger!
Bison meat not only tastes sweeter and richer than a high quality cut of beef, it's much leaner and more nutritionally dense and no one in the Nashville area knows how to prepare a world class bison burger like Caney Fork. Bison adds about 69% more iron to your diet than beef. It also has higher levels of vitamins and minerals, plus twice as much Beta-Carotene as other red meats. And even though bison meat is very lean, it is high in essential fatty acids with an excellent ratio of Omega-3 to Omega-6 acids.
What this means to you is that our epic Nashville Bison Burger is not only good for you but TASTES FANTASTIC… And you can only get one at Caney Fork, along with other amazing wild game like our Elk Sliders, Gator Bites, Frog Legs, Outfitter Stew, Venison Sausage, and more.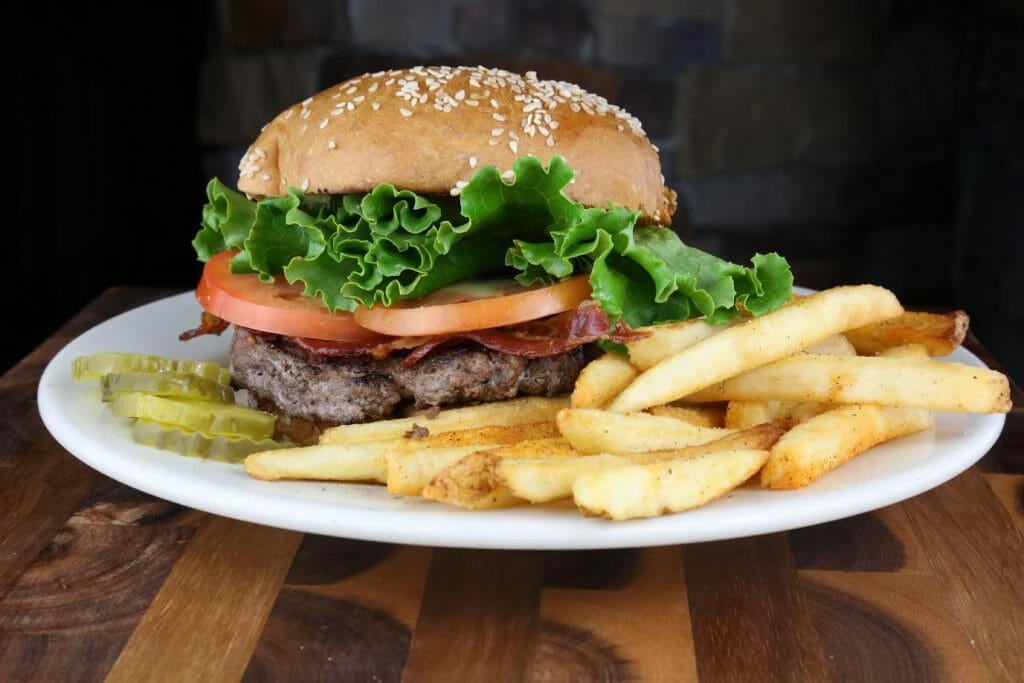 Best Burgers Nashville | Bison Burger Nashville | Best Burgers in Nashville
At Caney Fork we offer the best Wild Game food anywhere. Our Wild Game menu includes: Wild Game Platter (the best of everything), Cajun Gator Sliders, Wild Elk Sliders, Big Game Burger, Venison Sausage Philly, Bison Burger Nashville and the best burger in Nashville
Come in today and quench your thirst with locally brewed own, Yazoo Brew Beer. Support our hometown microbrewer and take the edge off. Also, don't forget about our amazing appetizers like the Fried Pickles, Frog legs, Elk sliders, Gator tail, Crab cakes. We are a great local Nashville burger joint. Hope to see you again soon at the Caney Fork!
This one of a burger joint is located near a Hotel, Convention Center and Mall, our southern style offers locals and visitors alike a unique dining experience. We have a full pub with 9 large flat screen HDTV's so you can enjoy your favorite beer, wine or cocktails. We have a nice selection of craft, domestic and imported beers on draft or in the bottle, white and red wines and a full line of cocktails including Popcorn Sutton's White Lighting whiskey. At Caney Fork offer the best burgers in Nashville for dining with your family or friends. If you are staying at one of the local area hotels, timeshares or RV parks, or shopping at our Mall be sure to stop by for a drink or meal. We know you won't be disappointed.
Caney Fork is decorated uniquely with a camp fire theme with critters and memorabilia giving you the true "Camp Fire" dining atmosphere. Our dining area also has a large circular fireplace, a 3,000 gallon pond and separate dining areas with tables and booths. So order your favorite southern cooked meal, served camp style, and dine by the pond and meet our pet "Snowball". On Friday's and Saturday's we also have live music for your entertainment.
We have a large private dining/banquet room available to rent for your special event. Our large banquet room can accommodate up to 55 guests and has a gas fireplace and HDTV, great for business meetings, reunions, tour groups, birthdays, receptions and more. We can provide full service to your guests or you can just rent the room.
https://www.caneyforkrestaurant.com/
Best Burgers Nashville | Bison Burgers near Nashville | Best Burgers in Nashville