At Caney Fork we pride ourselves on our private label BBQ sauce and the best, most delicious fall off the bone BBQ ribs Nashville has to offer. Our BBQ talents don't stop at ribs but we are also serving the most succulent, tender pulled pork in Nashville and all the best pulled pork sides to go with them! A heaping portion of hickory smoke pulled pork served on a sweet corn meal cake with our private label southern sauce, sliced onions, and pickles. There truly is none better in the South! Not to mention all the best BBQ sides to go with them! We take great pride in offering the best ribs in Nashville and have thousands of 5 star rankings across the web. You don't have to take our word for it though, check out reviews of Caney Fork on TripAdvisor at the top of the site or our thousand plus reviews on Facebook. Along with other amazing wild game dishes like our Elk Sliders, Gator Bites, Frog Legs, Outfitter Stew, Venison Sausage, and more.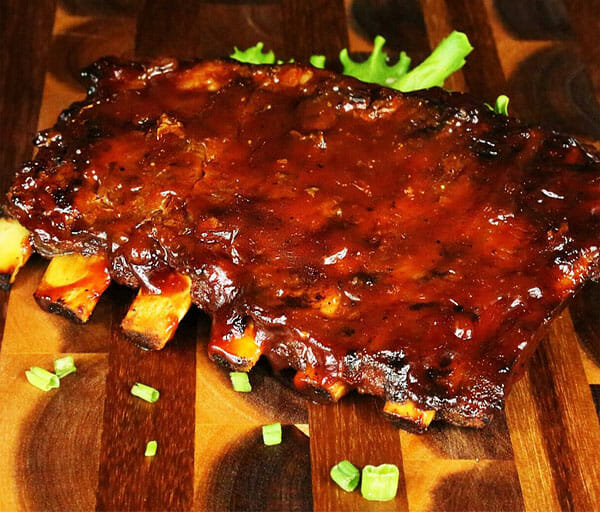 Best BBQ Ribs Nashville | BBQ Ribs near Nashville | BBQ Ribs in Nashville
At Caney Fork we offer the best BBQ food anywhere, but especially in Nashville. On top of our selection of the best BBQ in Nashville we offer wild game that includes: Wild Game Platter (the best of everything), Cajun Gator Sliders, Wild Elk Sliders, Venison Sausage Philly.
Come in today and quench your thirst with a local brew. Support our hometown microbrewer and take the edge off. Also, don't forget about our amazing appetizers like the Fried Pickles, Frog legs, Elk sliders, Gator tail, Crab cakes, and the Best Ribs in Nashville.
We specialize in offering locals and visitors alike: the best Nashville ribs (slow cooked, large and meaty), BBQ ribs in Nashville, the best pulled pork in Nashville, sandwiches, wild game specials, fried pickles, salads, campfire s'mores, and of course, our signature almost World Famous Corn Fritters. We also have "Wild Game" food offerings, somewhat unique and not offered at most Nashville ribs joint.
Best BBQ Nashville | BBQ Nashville | BBQ in Nashville
Caney Fork opened and quickly became one of the most well-loved places to get barbecue in Nashville, TN area. Patrons of food and fun packed in because we treated our guests to an entirely new experience. We became a unique Nashville barbecue joint pairing the traditional and non-traditional at the same time. Come on in for the best BBQ in Nashville
We're traditional because we use traditional cooking methods and styles to create unbelievable Q. We're non-traditional because we serve up numerous local alcohol options that go great with our BBQ. We've also expanded on the typical old-school side selection by adding comfort foods also!
Our one of a kind rib joint in Nashville is located near a Hotel, Nashville Convention Center and Mall, our southern style joint offers locals and visitors alike a unique dining experience. If you are staying at one of the local area hotels, timeshares or RV parks, or shopping at our Mall be sure to stop by for a drink or meal. We know you won't be disappointed.
How did BBQ come to Nashville
Many historic and famous people who had career's in other fields were often fascinated with creating the best barbecue Nashville has to offer (alright it may have been everywhere but their influences can be felt here in Nashville).
The first indigenous tribes the explorer Christopher Columbus encountered on the island he named Hispaniola had developed a unique method for cooking meat over an indirect flame, the tribe created this using green wood to keep both the food and wood from burning. Reports indicate that the Spanish referred to this new style of cooking as barbacoa: the original barbecue. As the Spanish explorers who followed Columbus turned their expeditions north, they brought the cooking technique with them. In 1540, close to present-day Tupelo, Mississippi, the Chicksaw tribe, in the presence of explorer Hernando de Soto, cooked a feast of pork over the barbacoa. Eventually, the technique made its way to the colonies, traveling as far north as Virginia.

Original BBQ-ers of the southern colonies depended on the lower cost, low-maintenance nature of pig farming. Unlike cows, which required large amounts of feed and enclosed spaces, pigs could be set loose in forests to eat when food supplies were running low. The pigs, left to fend for themselves in the wild, were much leaner upon slaughter, leading Southerns to use the slow-and-low nature of barbecue to tenderize the meat. And use it they did. During the pre-Civil War years, Southerners ate an average of five pounds of pork for every one pound of cattle.
Read more: Smithsonian Magazine Article
Caney Fork's authentic Nashville-style BBQ is slow smoked for hours over a mix of local woods to provide a recognizable, regional flavor that has been synonymous with the area for over a hundred years. Caney Forks Nashville BBQ represents the truest of Nashville's native cuisine.
Come out and enjoy our fast, friendly, and fun local spot in the Historic Nashville! Caney's is the best Nashville BBQ rib joint.
We are located in Donelson, Tennessee. We have ample parking across the street from the Opryland Hotel and SoundWaves Waterpark. Just down the street we have the Opry Mills Mall and the rest of downtown Nashville.
https://www.caneyforkrestaurant.com
Best BBQ Ribs Nashville | BBQ Ribs in Nashville | Best BBQ in Nashville TN